Talented singer has big plans for the future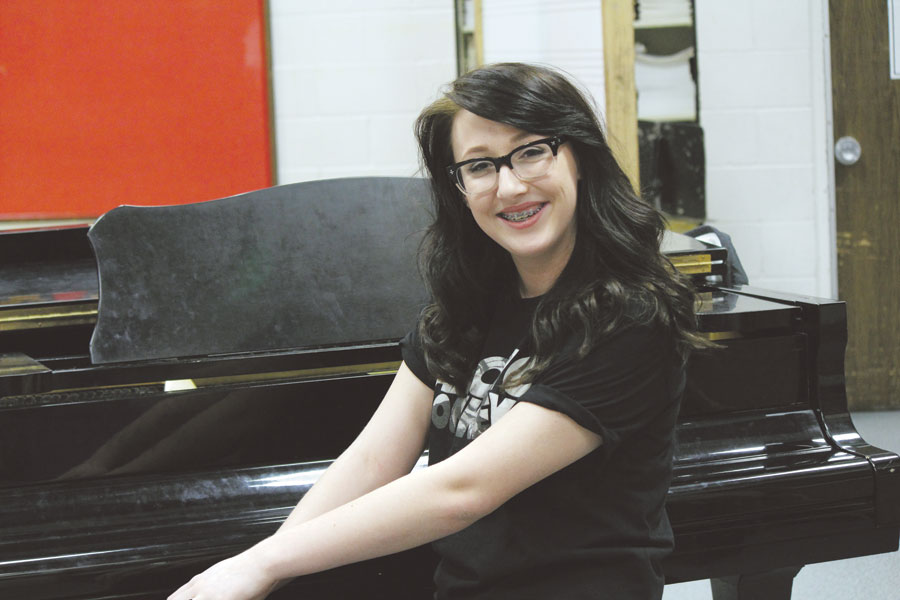 It's not difficult to spot Olivia Passmore in a crowd. Her affectious smile and passion is evident, especially as she partakes in what she does best — singing. For most, music is an escape, a way to take a break from the real world… if only for a moment, and for Passmore, this holds true.
"I am so lucky to have found music as a medium to share what I'm extremely passionate about and a piece of who I am to people. It makes me so happy and whole. [When people hear me sing], they allow me to be able to display a part of myself that isn't seen everyday — my favorite and happiest part of myself. It's basically like wearing my heart on my sleeve when I perform," Passmore said.
It is undoubtful that Passmore holds a positive aura. She is described as sweet, kind, and a person with a good head on her shoulders by her friends and mother.
"What [Olivia] doesn't realize is that she inspires me. I am awestruck by her courage and determination," Passmore's mother, Lily Passmore said.
"Olivia is definitely a character," friend Marin Ryles said. "We balance each other out. She's got a beautiful voice and she can harmonize like no other. She's also one of the most funny people I know. We've just always had real chemistry singing together and it lead to us becoming best friends."
This 17-year-old Wenatchee native is well respected by her friends and peers, in addition to her family, and has not been shy of the spotlight. Passmore has performed on several occasions, including the 2013 and 2014 Janice Franz talent shows, and at the 2013 Apple Blossom Festival, and has appeared with Ryles, and fellow singer, Karli Kuntz at both events.
"I [performed at] Cocoa Cafe this last time, with Marin Ryles and Karli Kuntz, and performed at a fundraiser at the Masonic Center," Passmore said, "[the Masonic Center] was probably my favorite because it was so humbling to be able to sing to entertain people who were there supporting an amazing cause."
Passmore also records herself, and Ryles, for videos they upload on YouTube. Aside from her talented vocals, Passmore is also skilled in playing several instruments, including the drums, the guitar, and the ukulele.
For some, learning to play an instrument is a neverending challenge. For Passmore, it is like a second nature.
"I've been singing since I could form sound and get my hand on an instrument. I have a weird knack for being able to just pick up an instrument and semi-learn how to play it by ear, which drove my parents nuts when I discovered the drums. I started writing songs when I was around 4 or 5, when I started playing guitar, and I just haven't stopped."
For Passmore, the biggest event in her life that has made her who she is, was discovering the ukulele.
"My dad had gone to a yard sale and saw this tiny ukulele for $5 and picked it up to see if any of us wanted it, and I ended up with it. Call it what you will, fate, happenstance, but I call it my first love," Passmore said. "I never put that thing down. I finally got a good quality one, and it's my baby. [The ukulele] really started it all as far as my performing. I entered the Janice Franz talent show last year playing "I Can't Make You Love Me" by Bonnie Rait, and that's when I knew this is what I wanted to do with my life."
As for her future, Passmore is certain it will include music. She wishes to attend the Cornish College of the Arts in Seattle following high school. She plans to major in vocal jazz studies, and minor in English.
"Whatever I do as a career path, I want it to have music and some from of teaching intertwined to it," Passmore said. "I want to be able to help anyone else all I can who is passionate about music to pursue it because they also love to create."
"I think I am most proud of her for using her music to help others, doing the talent shows this year and last as well as another fundraiser, for someone she didn't know, just so she could give back," said Lily Passmore.
For Passmore, her hope is to simply share her passion and love for music with others.
"I get to (hopefully) entertain and share the love and the metaphorical harmony I feel," Passmore said. "I love to make people smile, and I consider singing a gift because I have an ability to make people feel with just my performance and I've never found anything that I could ever do and be this devoted to."