Winter Sports All-Stars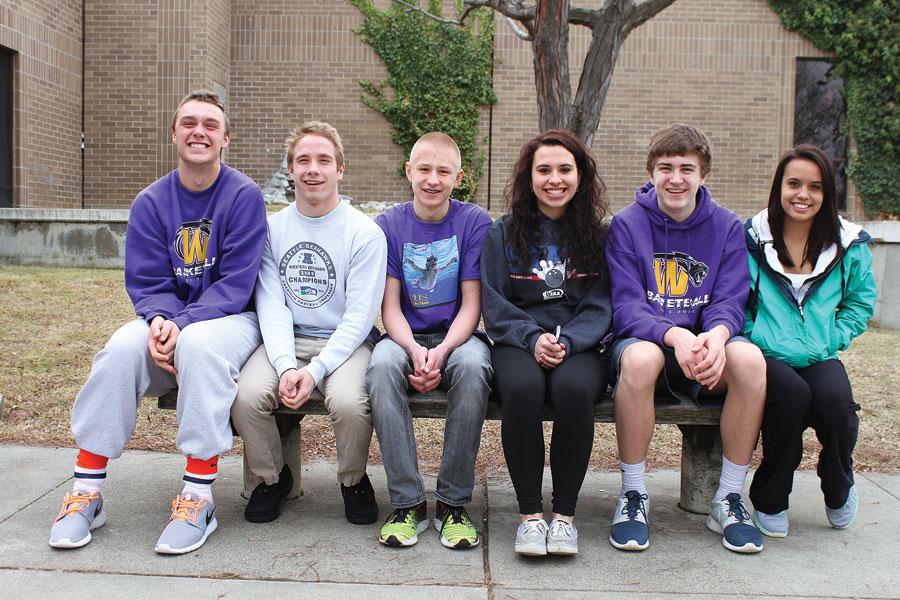 Bowling: Alexis DaSilva, 12
When the times were tough, senior Alexis DaSilva was just the person to jump start the Wenatchee High School bowling team this season. DaSilva's contagious positive attitude helped pull the team together, said Coach Jay Young.
Since her first match on the bowling team her sophomore year, DaSilva managed to keep a consistent average of 173 pins this season; an improvement of 53 pins in just two years. With that average Dasilva claimed her spot as the third bowler on the league's All-Star team.
"In these three years she went from just starting to All-Star," Young said. "If you can get better every year by 20 pins that is really, really good."
Young likes to describe DaSilva as "diligent and dedicated." DaSilva motivated her teammates with much enthusiasm and kept her head focused toward the goal, Young said.
"If she [DaSilva] bowls a bad strike she always has that mentality and says 'We will do it better,'" junior bowler Bethany Symonds said. "Lexi always works hard to improve herself and the team."
DaSilva has pushed herself to improve her skills through her bowling career, always setting high standards and cooperatively working, according to Young.
"The whole experience and team has been great," DaSilva said. "They are basically my sisters. Mr. Young has that good humor, but he's serious when needed. He is the best coach I could have asked for."
-Eduardo Ramos
Boys swimming: Austin Boese, 10
Although having swam for five years, sophomore Austin Boese believes his best is yet to come. This year's swimming All-Star broke personal records in both of his events and was one of the top swimmers on the team. This year, he only swam on the school team, but has tried Velocity, the year-round swim team, in the past.
"Austin makes the most out of every minute of practice and is always trying to get better…" Coach James Elwyn said. "He makes it so we have a better overall feel in the team. He's pretty darn fast too; he's kinda what you want an athlete to be."
This year Boese broke two personal records, dropping 15 seconds on his 200-yard individual medley and two seconds on his 100 breaststroke. He went to State in the 200 medley relay, placing 17th. At Districts, Boese was on the 200 medley relay, placing second, and placed sixth in the 100 breaststroke and ninth in the 200 individual medley.
"Austin always, always gives his best, 100 percent," said sophomore teammate Joel Perez. "If he doesn't do well … you can tell he's upset. He's always giving 100 percent. You don't really see him ever slacking off in practice or in meets."
"It's kinda funny because [he will] verbally put himself down all the time, but that's not how he works, he works like he wants to get faster, and he does, he improves a lot," said sophomore teammate Jared Vargas. "He's a big component of the team."
-Evie Hyde
Wrestling: Kris Garrett, 12
As District champion in the 145-pound weight class, senior WHS wrestling team captain Kris Garrett led the team not only at tournaments, but as a personal leader as well.
"Rather than harassing or picking on the underclassmen, he befriended them, praised them, and gave them high hopes. He made them feel like part of the team right away…  [He] didn't make the freshmen earn their way on the team, he made them feel as important as anyone else on the team," Coach Ed Valdez said.
Garrett has wrestled all four years in high school, and started during middle school. This year, Garrett won first place at the Premier Tournament and also took fifth at the Pacific Northwest Classic Tournament.
Garrett, who made it to State last year and went to Regionals as the District champion in his weight class, did not qualify for State this year. "I'm obviously very disappointed, but I think it taught me… that one, sometimes you have a bad day, and two, you can't get by on talent alone. You have to work hard," Garrett said. He is still considering wrestling in college, although he has not yet confirmed his college plans.
Freshman Ian Tamngin looked up to Garrett. "He helped everybody with wrestling and set an example, he was always first and in the front of the line for workouts and drills. He worked hard," Tamngin said.
-Kiana Wilson
Boys basketball: Dillon Sugg, 12
Senior Dillon Sugg was chosen as an All-Star because of his hard work and determination during the boys basketball season. Sugg was the leading scorer for the season, scoring 16 to 17 points per game.
He was first-team all-league and first-team defense. Sugg was an all-league performer every year he has played since a freshman. Sugg was Player of the Year as a junior.
"He keeps on us and makes us better," sophomore Grady Miller said. Sugg was the returning league MVP from last season and mainly plays as a three guard. A three guard on offense is also known as a shooting guard.
This All-Star has respect from both the coaching staff and his teammates. "He [Sugg] is a good teammate, he's our leader," junior Trey Adams said. "He goes hard at every practice."
Sugg has played basketball since he was 7-years old. Last summer, Sugg was part of a successful AAU basketball team that traveled all across the country.
After high school Sugg will play football for the Central Washington University Wildcats. Sugg has a partial scholarship and hopes to play basketball for the Wildcats as well.
-Kori Martin
Boys basketball: Gavin Long, 10
Sophomore Gavin Long has become an extreme asset to the Wenatchee High School boys basketball team after his high scoring season with the Panthers. Long had a career high of 23 points this season.
Long has consistently been a leading scorer for the team, scoring in the low- to mid- 20s in multiple games.
Long is also popular among his teammates. "He's a funny guy with long arms that can get all the rebounds," junior Trey Adams said. "As a teammate, he's really passionate."
Long has played basketball for six years and and has played on an AAU basketball team since fifth grade. When Long got to high school he joined the boys basketball team. Long played for the junior varsity team his freshman year and was the only freshman on that team.
Then, this year, Long became one of the biggest assets to the varsity team. Long's favorite game of the season was a game played against Davis. "We lost, but it was still an exciting game," Long said.  This game was his favorite game because it was a very close game and the fans were getting very involved in the game.
Long also had a great time playing alongside his teammates and loves how the team always has fun together.
-Kori Martin
Girls basketball: Katie Kansky, 12
Senior Katie Kansky just finished up her fourth and final year of varsity basketball at WHS. Through all four of these years, she has been seen as a leader and a great asset on the team, said Coach Robin Kansky, who is also Katie's father.
"She would rather see her teammates score than herself and she was always willing to take a charge to help her team out. She is simply the perfect model of a great teammate," Robin said.
Her teammates' opinions of her shows that she is not simply the coach's kid.
"She always had all the drills and warmups planned for us to get better; she sped up the game whenever we needed it and never let up on defense," Junior Gabby Waterman, said, who has played with Katie for two years now.
Katie has played more than 80 varsity games in her career, and has put up impressive statistics consistently through all of these games.
In her senior year, she averaged 8.4 points, three rebounds, 4.7 assists, and 2.9 steals per game.
She plans on attending Wenatchee Valley College to study landscape architecture, but will not be continuing her basketball career.
-Daniel Arndt