GA Band competition results on top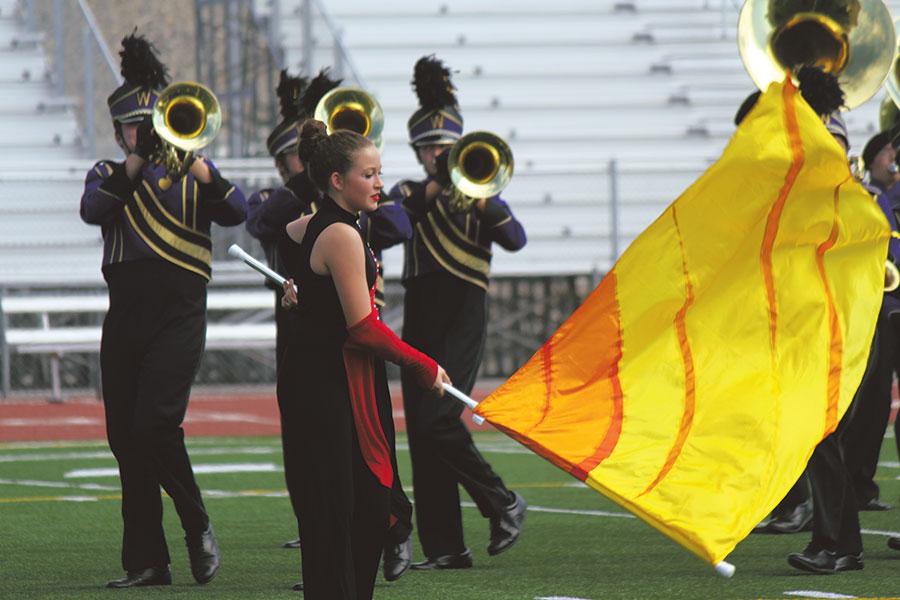 The Golden Apple Band has been on a "drum" roll with their competitions this season. With four competitions done, and one to go, the G.A. Band has placed among the top bands in the state.
With one event left , Nov. 8 at Auburn, here's how the band has performed:
The band's season started off at Pasco's Cavalcade of Bands on Oct. 6 against 22 other bands. Second place in AAA-large Division earned them a chance at the finals in the Cavalcade. They placed eighth overall.
At the second competition in Tumwater on Oct. 11, the band came home with second place in their division and third place overall, competing against 30 other bands.
At their third competition, the band marched in Yakima's Harvest Festival on Oct. 18, placing second in their division. Receiving third place overall while competing against 30 bands.
In Everett, where they had their most recent competition on Oct. 25, they received fifth place in their division and eighth place overall.
Caption awards were also received by the band for Best Marching in Yakima, Best Percussion for three straight competitions, and Best Drum Major was awarded to senior Riley Rosser and junior Kevin Wilson in Tumwater.
A special award, the 8 to 5, was given to senior Claire Devereaux in Pasco. A gold-painted pair of band shoes is awarded to a nominated band member who places first in an event where the band member must march five meters in eight steps blindfolded. "It was such a cool feeling, the band was more excited than I was at first because I couldn't comprehend what had just happened," Devereaux said. She went on to say, "I won a pair of gold shoes thinking, 'big deal.' When I saw how excited the band was for me, that's when I really got excited. It was just really neat that the band was supporting me."
The band's show is difficult, with lots of steps and other visuals. Adding to the lists of challenges the band has faced this year is that there are many underclassmen, especially freshmen.
"The show is very challenging visually, and it's an athletic show. It takes a lot of stamina," said senior drum major Riley Rosser.
Despite the challenges, everyone is being supportive of each other. "I like the attitudes a lot," says Rosser. She mentioned how last year there was a bit of drama in the band and leadership, saying, "We're coming out of the dark ages of last year."
Rosser said everyone is working hard to get better.
"Our biggest competition is ourselves. The only way we'll get better is if we put in the time and effort," said Wilson. He said strong individual effort and hard work has been vital to the band's success.
Andy Johnson, drumline section leader, noted the percussion section has had a strong history with the drum line winning all of its competitions two years in a row.
Band members spending anywhere from 30 to 40 hours a week between class, practice, and competitions. They understand that the hard work is necessary.
"The competition has gotten harder," said Johnson, noting that bands that previously didn't prove such a challenge now do. "We can always improve. We've never performed perfect, we never will perform perfect, but we can try."