Holiday spirit: Can you hear it (at Cocoa Cafe)?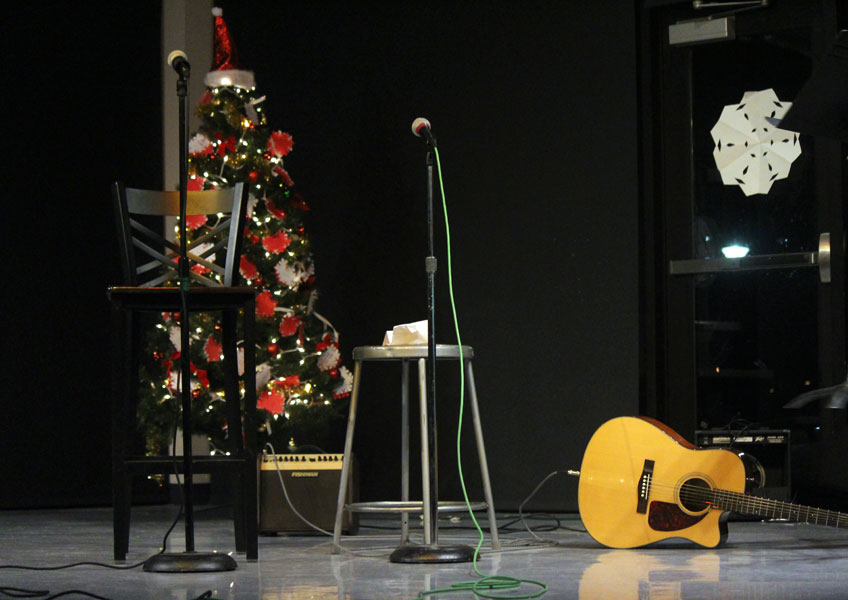 Christmas lights hanging in the air illuminated the cheery mood of the Cocoa Cafe that took place in the new commons last night. This friendly school get together opened up the floor at 7 p.m.,  and was an event that was an effort in bringing the school and its students closer together.
"I performed a song I wrote, called Icarus," senior performer Matt Terry said, "I feel happy I got to share my music with some of my fellow Panthers."
Cocoa Cafe transformed the new commons — instead of being crammed with messy lunch tables, the room was filled with comfy couches, tables and chairs for the guests, leaving the room with a very cozy feel. A table of treats and hot cocoa was set up for everyone, and there was also a brightly lit Christmas tree, which brought the viewers thoughts of joy about the upcoming holiday.
This event also showcased the many talents of Wenatchee High School. There was live music, poetry, and instrumental pieces for the guests to listen to and relax. Students of all ages stepped up to perform, all with different reasons of why they chose to share their gifts with the rest of WHS.
According to junior Camille George, one of the main organizers of the event, it was successful. "I thought that overall it went well," George said, "A few people didn't show up, and it could of had a little better attendance if it had been publicized more, but the music performances were great and we coordinated the open mic well."
In any case, most who attended said they had a great time and experience watching others perform and drinking hot cocoa.
"It was really good, and the performers did excellent," freshman Kathryn Delgado said, "Can we do this more often?"
---
Look for a photo gallery coming this week.