Inside debate: Adviser Dave Carlson
Deep breaths in, deep breaths out. The butterflies in the stomach won't calm down, but a gulp of air might appease them for a while. Standing, waiting, then it's your turn. To debate. To compete. To win. For Wenatchee High School English teacher and Debate coach Dave Carlson, this feeling is what he lives for.
For the past 19 years, the WHS debate team has been headed by one man. He has taken his team to State 38 times, with more than 20 top-seven finishes, five State champions, and several National qualifiers. What keeps a teacher coaching the same activity for 19 years? For Carlson, it's the competition.
"I'm really competitive, so I love debate," Carlson said.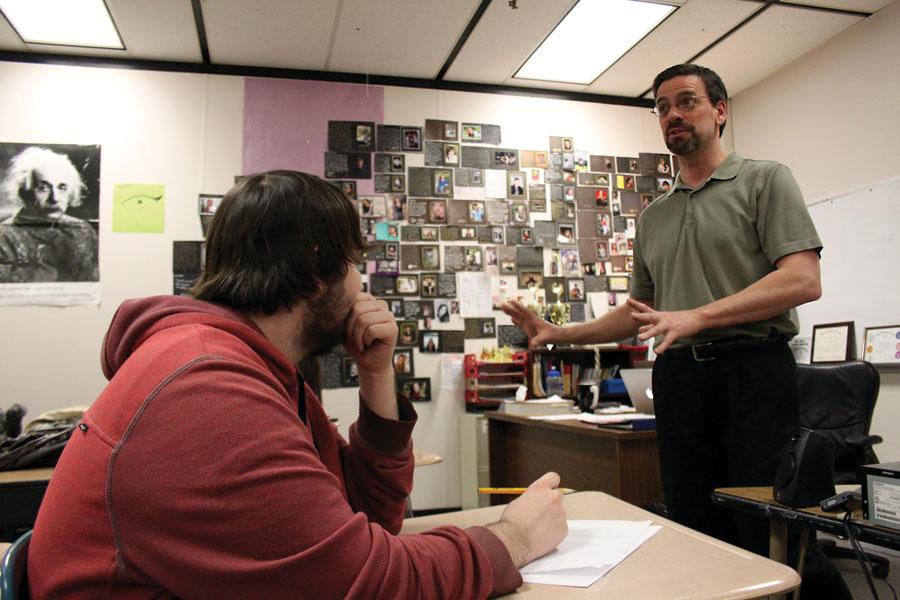 How did a teacher get so good at one activity? According to Carlson, he tried debate the second semester of his senior year, just on a whim. He was hooked. He continued debate in college, where he qualified and competed in Nationals twice. He now really enjoys teaching it to students who want to learn the fine art of debate, even though he would rather be doing it himself.
"I like the students who do debate because they like doing debate. People who enjoy speaking and have natural talent and want to get better — I like that," Carlson said.
Surely with an activity like debate, which has competitions almost every weekend during the five-month season from November to March, free time must be limited for an already full-time teacher.
"
We're just one of those activities that always has things on the weekends."
— Debate coach Dave Carlson
"Oh yeah. I think I remember what free time is," Carlson said. "We're just one of those activities that always has things on the weekends. But it's totally worth it."
Debate has two different State competitions per year, individuals and classic debate. Individual State is made up of categories like persuasive and informative speaking. Individual State is on March 13-14. Classic debate State is March 19-21. Both of these competitions are held at University of Puget Sound. At these contests, debaters can qualify for Nationals, which is held June 8-13 in Dallas.
"We have a good chance of sending some kids to Nationals this year," Carlson said.
Debate might be one of those clubs that isn't well known, but it could certainly be a club for anyone to try out.
"Usually it's just people who are interested in the club itself, and have the skills," Carlson said. "We recruit a lot of kids who have a lot of experience, lots of Drama kids, lots of DECA kids."