Sole searching: The truth about shoes
February 10, 2015
Editor's Note: Opinion Editor Kiana Wilson photographed eight different styles of shoes. Managing Features Editor Emily Cieslak then reviewed these pictures, and formulated her best input.
Socks and Birkenstocks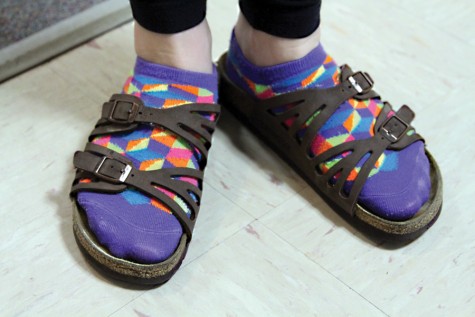 Kiana Wilson
While Birkenstocks alone used to complete your hipster image, after the sandal's surge of mainstream popularity this summer, you now have to don both weird socks and hippie clogs to look defiantly different. Don't get too cocky though, we know you put more effort into your pairing than you try to make it seem, having to find eccentric socks in the first place and then stomping around in one-inch rubber supported by straps of leather. We also sympathize with your bipolar condition. On one hand, the socks indicate you want to drink tea, listen to indie music, and read poetry. On the other, the sandals say you want to go hiking and take photos of nature. Instead you mope in biology class.
Brown combat boots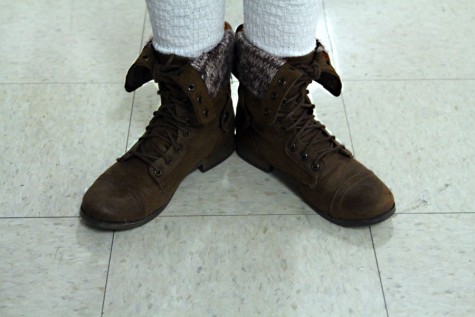 Kiana Wilson
Fashion is an expression of style, and with these simple boots you are not saying much. Yes, they are a step up from sneakers, but over recent years, so many versions have been spit out by various brands that they lack originality. As far as one can tell, you may prefer an edgy style and like how the stark boots complete the look. Or, you may be a fan of flowy sweaters and swinging skirts, and you appreciate the contrast the boots bring. Yet as the trend for this grunge feel transitions from unique to overused, you may need to find some new shoes.
Hunter boots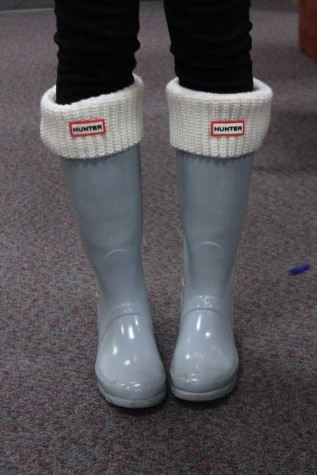 Kiana Wilson
If you like drinking Starbucks in the rain — actually who are we kidding this is Wenatchee, not Seattle — if you like drinking Dutch Bros. in the car, then you probably like wearing Hunter boots too. Thanks to those brave souls who recently broke in the trend of wearing rain boots on dry days, you realized Hunter boots were acceptable. The pastel shade totally spoke to your girly side and rather than having to buy separate long socks, the boots already came with leg-warmers, making the $150 such a good deal! Sure the tops of the boots may get soggy during a shower, but you didn't buy them for the rain anyway.
Multi-colored Vans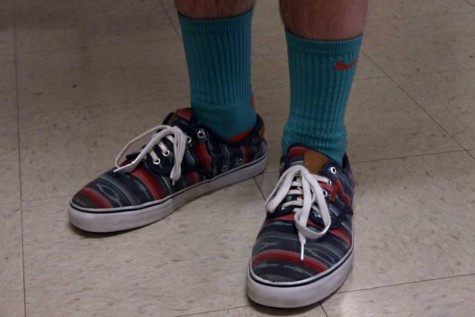 Kiana Wilson
Props to you for being one of those guys who actually make an effort in how they dress, beyond buying brand names. When you are not matching the right shade of socks to the design on your kicks, you can be seen wearing khakis, button-downs, and possibly a watch. It may not be real gold or silver, but it's your thought that counts.
Socks and Nike sandals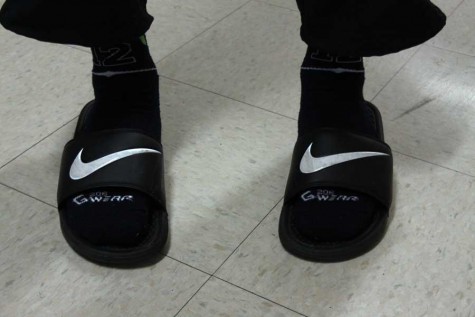 Kiana Wilson
Thank god for sweatpants, socks, and sandals after long workouts at the gym. Oh wait, now it's third period, practice was yesterday, and you had a whole night's rest to recover. Or maybe you don't even play a sport but just find yourself a slave to the swish and occasional workouts. Regardless, your bottom half matches your assortment of sweatshirts and T-shirts that combine to express your chill, easy-going personality. Homework? You can do that later! Study? What's that? It's your performance on the court or field that counts.
Leopard boots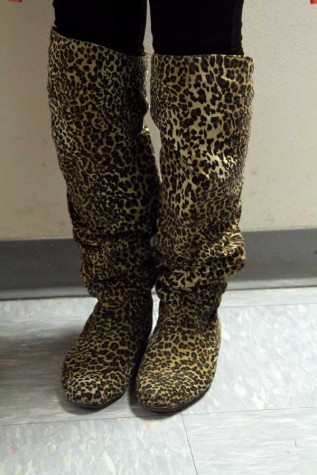 Kiana Wilson
Who wants regular boots when they could be knee-high and leopard print? Obviously not fabulous fashionistas like you! Your over-the-top, glamorous personality demands kicks that make a statement, and this wild print cannot go silent. Perhaps you are an animal lover who needs to rep the jungle in everything you wear? Or maybe you say, "Forget the animals, humans are the ones who should be sporting the fur!" Either way, rest assured knowing no one will think those hot messes are actually real!
Tie-dye Nikes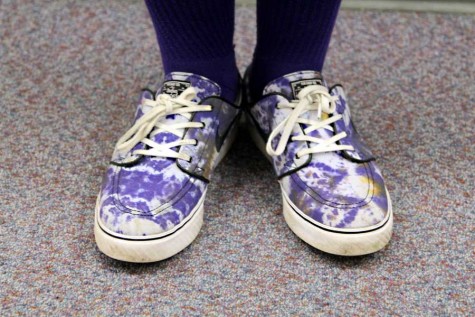 Kiana Wilson
Your tie-dyed, purple and slightly-yellow Nikes are cool, but only on spirit days. If worn regularly, please be some sort of aspiring fashion designer who took shoe-design into his or her own hands rather than a student trying to constantly  promote Panther pride. Wenatchee High School is awesome and all, but shopping for and wearing a uniform of school colors is an excuse for lacking individuality and style. Nike is the henchman of conformity, and in recent years, tie-dying has become pretty basic too.
Champion sneakers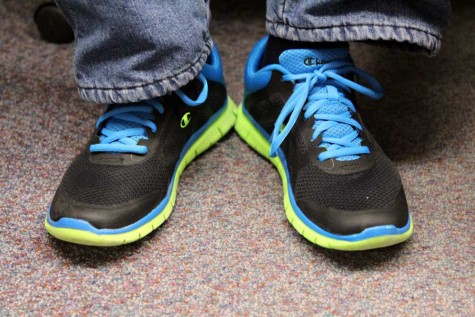 Kiana Wilson
Congratulations on choosing comfort! Being pragmatic, you find the sensible solution for every situation, like how it is best to wear sneakers during seven hours of sitting in chairs. Of course, you are modest as well, so there is no need to given into brands featuring pastel shades and customization, low-key Champion will do. Judging by the jeans, you are not out there for an athletic persona, just a casual vibe oblivious to how non-aesthetic jean and sneaker combos can be.