Breaking the stereotype for competitive dancers
March 19, 2015
As the curtain rushes open and the spotlight shines down, a lonely figure is revealed onstage — poised, lean and graceful at center stage, this lyrical dancer is not your conventional ballerina in a pink tutu or slippers, but is instead junior Tony Smith, dressed in all black.
"The feeling you get after you come off the stage from doing a really good number — like, you just feel so pumped. It feels amazing," Smith said.
Being the only competitive male dancer at Wenatchee High School, Smith has broken through gender stereotypes to succeed in a sport that is typically female dominated. After just three years of competitive dancing, Smith has worked his way to the top in lyrical and contemporary dance, earning the Mr. Spotlight Award at the Regional dance competition in Coeur d'Alene, Idaho on March 7.
Inspired by the dancers he saw on television, Smith jumped headfirst into dancing, joining the Dance Creations studio at the beginning of his freshman year.
"I started off pretty heavy with 17 classes my first year, and then I had to cut back a couple because of school. So I was only taking seven or eight hours a week my second year, and this year it's even less… For classes I only have five hours a week, but I come in on the weekends really often. And also we have Sunday practices a month before competition," Smith said.
"
Guys don't really dance, so they don't think dance is for men. And, also, especially with the type of dance that I do."
— Junior Tony Smith
Lacking talent in sports, Smith joined dance, but shied away from the conventional hip hop dance style that most males and most Dance Creations dancers are known to embrace.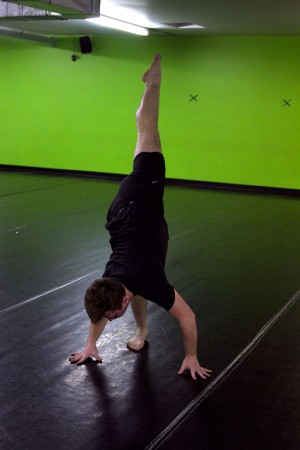 "That (lyrical dance) is what I have the most passion for, and I really can relate to it," Smith said. "Anyone can, because it's about stuff that hits home. When you listen to the music you can express that through dance and through your face and just really live for it… I am an absolutely horrible hip hop dancer, and it's actually pretty funny because our studio is mostly hip hop dancers. So you think I'd be pretty good at it, but it doesn't really stick with me. It's harder for me to express how I feel through it because I can't really relate to it that well. But I love contemporary and lyrical music. It's really relatable."
In the beginning, the disadvantages seemed overwhelming, not just because of his gender, but also his age and late start in dancing. Many female dancers begin at a young age, sometimes as early as 6 or 7 years old.
"I was put in classes with people who had been dancing a lot longer than me. So I would have to practice a lot more than most because they can pick up choreography so well. And with flexibility, females are typically more flexible. They have more open hips. But it's really hard on the body for guys that are bigger. Girls can just dance more gracefully," Smith said.
Entering into a daily stretching routine designed to improve flexibility, Smith's hard work slowly came to fruition. Smith decreased the amount of classes he was taking and instead began pinpointing the strengths of his passions. Continuing to find inspiration in the dancers on television, Smith also found role models in his dance instructor, Lindsey Martin, as well as Brian Friedman, an American dancer and choreographer. Taking on solo contemporary performances, Smith began practicing independently at the dance studio on weekends. But despite his hard work, stereotypes assaulted him left and right.
"People might not take you as seriously. Guys don't really dance, so they don't think dance is for men. And, also, especially with the type of dance that I do. People think that guys do hip hop. So when they hear that I do lyrical and ballet, they think, 'Oh, so he does that,' but they don't see that I actually do dance and I competitively dance."
Despite lacking local competition, Smith takes pride in his title as WHS's only competitive male dancer as much as his award for Mr. Spotlight. Encouraging boys to branch out and try dance recreationally, Smith hopes to see the number of male dancers in the Wenatchee Valley increase as acceptance grows.
"I wish I had someone I could compete with, but it's still pretty cool. I feel like people know me more for being a dancer. With so many girl dancers, people are like, 'Oh, you're a dancer. That's cool.' But with me, everyone pretty much knows I'm a dancer," Smith said.