Tailored threads: Mariah Hetterle designs, makes clothes
March 25, 2015
Black or pink? Stripes or polka-dots? Lace or silk? These are just a few questions that senior Mariah Hetterle has to ask herself before starting a project. However, just choosing what a dress is going to look like isn't all that goes into making one. You also have to make sure that it fits the way that you want it to, and that doesn't always happen on the first try.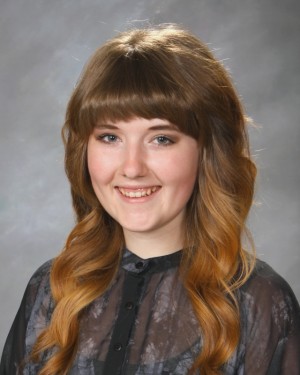 "It's basically like anything else you do.You make mistakes and you redo and retry," Hetterle said.
This process can take anywhere from two weeks, to a whole month to make a single dress. Although, she wouldn't be able to do any of it without the help of her grandmother, Carol Dolfay, who taught her the fundamentals when she was younger and now is the one who provides the materials for Hetterle's outfits.
Most girls have imagined designing their own clothes at one point or another. What's not to like about the idea of people looking amazing in something that you created all on you own? Incredibly, Hetterle has taken these dreams and turned them into a reality. After growing up learning the art of sewing from her grandmother, it's no surprise that Hetterle would end up gravitating towards fashion.
With a job at JC Penney's, a Fashion 1 class, and almost every art elective offered at the high school under Hetterle's belt, making clothes seems to come naturally to her. Even so, everyone needs to get inspiration from somewhere. Along with Pinterest and Do-It-Yourself websites, Hetterle looks to fashion designer Betsey Johnson for incentive.
"
Being able to go draw or make things allows you to express your feelings, and that can really help you."
— Senior Mariah Hetterle
"[Betsey Johnson] inspires me because she's individual and unique. Her clothes are girly, poppy, and edgy, which I like," Hetterle said. "Everyone has an edge, and they should let it show. You can't be afraid to be yourself."
Such a wide range of clothing pairs up with Hetterle's style nicely, since it can go from edgy and dark, to girly depending on her mood. This, coupled with her job at a clothing store affects her outfits. Having a direct line of sight on what's new and what people are wearing helps Hetterle achieve certain looks.
"I'm grateful for a job where I can get good ideas," Hetterle said. "I get connections to clothes I like and get to find new things that I like."
However, Hetterle is much more interested in clothes for other people than herself. Whether it's helping someone finding a dress for a wedding, or the right kind of clothes for working at Olive Garden, Hetterle can always help them find just the right thing.
"I make outfits mostly for other people," Hetterle said. "I'm picky, despite having a wide range of things that I'm interested in."
Although she thought about going to an art college, Hetterle has decided to stay home and go to WVC. However, she did tour at the Art Institutes, where she got to see a dress made completely out of aluminum cans.
From short/top combos with mustaches for her grandma, to a space dress for herself, Hetterle has a vast set of skills for the arts.
"I think artistic expression is one of the best things people can have," Hetterle said. "Being able to go draw or make things allows you to express your feelings, and that can really help you."
"[My favorite part of making outfits is] having the ability to be able to do what I want to do," Hetterle said. "When I finish an outfit, I feel pretty cool. Like 'I just make this with my own hands!' It's a special feeling."