Listening forum provides platform for concerned voices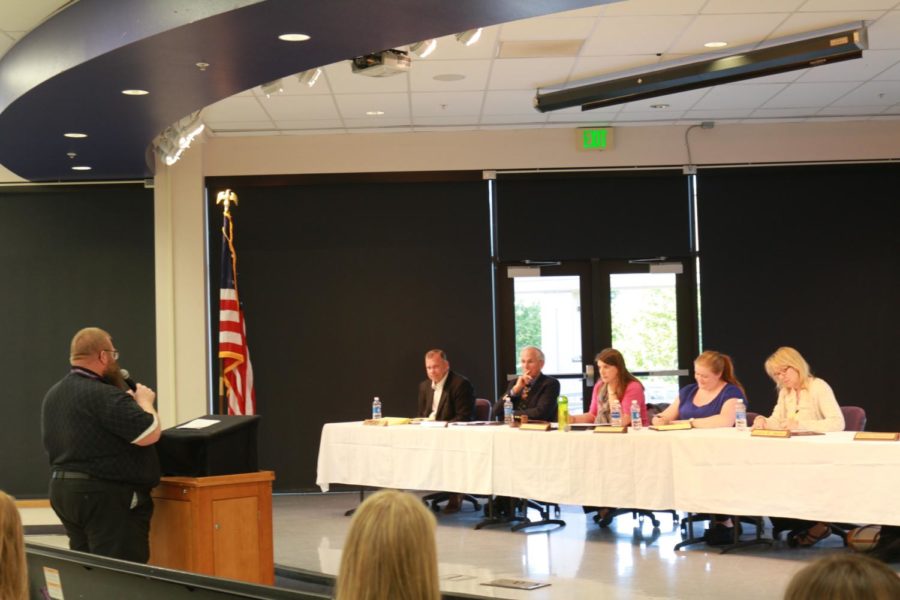 As the year comes to a close, the community is buzzing about the implications of the Wenatchee High School bond failure and the effectiveness of the 4×4 block schedule. In order to hear these opinions, a listening forum was hosted by the Wenatchee School Board and Superintendent Brian Flones yesterday evening in the Wenatchee High School Commons.
About sixty people attended the forum, and many chose to speak, including teachers, students, parents and community members. The forum began with a discussion regarding the bond failure. Graham Stansbery, WHS teacher, focused on the public's perception of the culture of WHS and the impact that may have had on the bond. He explained that next year he would be teaching at Westside High School, and that when he tells people, they cite the positive culture at Westside. According to Stansbery, however, a good culture is not unique to Westside.
"I love it here [at WHS]. The culture here is just as good as it is [at Westside]. The leadership here is just as good as it is there. But the community doesn't know that, because the voices being amplified in the Wenatchee World, what they're seeing coming out of the board conversations during the last year, is not what's actually happening here in our building," he said. "Eric Anderson is the best thing to happen to this building in over a decade. You might be pushing Brian out, but Eric needs to stay. His leadership has provided consistency and reliability and an open door that is allowing us to create the culture that is needed here to heal from the years of inconsistency. We're going in a direction that is powerful, and I just want that narrative to be in the community. And I'm afraid that's why we didn't pass the bond." Stansbery's comments referred to Flones's recent resignation announcement.
The discussion quickly transitioned to the 4×4 block schedule. Connie Toth, WHS parent, expressed her concern about lost instructional time. According to Principle Eric Anderson, the current schedule allows year-long classes 24 percent less instructional time than in the previous year.
"It has affected my children in the sense of feeling like they're rushing through certain classes, or teachers saying, 'No, we can't do this, we have to get through these chapters,' or in English, a book was dropped," she said. "I just want to make sure that going forward, we don't become a school that thinks it's okay to drop content."
Carrie Christiansen, WHS teacher, talked about what it means to earn credit. She explained that because a certain amount of instructional time isn't a requirement to earn high school credit; credit is based on competency.
"We added a course this year, and I have two of these courses myself. I have two classes of academic support, and we're giving credit for a course where students are completing their homework. I guess I would ask what competency those students are demonstrating, or not demonstrating, and being given credit for." Academic support classes are available to all students, but students in Advanced Placement classes are encouraged to take them to manage their rigorous course load, according to Doug Taylor, WHS counselor.
On the other hand, WHS student Gwen McQuaig explained how the schedule has allowed her to establish connectivity in history, perform full labs in chemistry, have in-depth discussions in English, and better utilize her time in music.
"I feel like there's a very negative stigma, especially running in the AP circles, surrounding the block schedule, but I've found some different results," she said. "With the diversity of subject matter I'm taking, I'm using different parts of my brain. With foreign language, I feel I need time to get into my French brain as they say, and that takes time. I know that some of the foreign language teachers really aren't supportive of [the schedule], but I've really appreciated that I can spend ten minutes getting in my "French brain", and then I have eighty minutes of solid learning where I am completely engaged in the class."
Mark Haugan, WHS teacher and parent, said the block schedule has allowed him to go into the instructional depth he needs, show examples, and assist his students in practicing the material.
"I would argue against anybody telling me that I'm getting less content in my class. The reason I would is because I'm in charge of the content and nobody else is." He explained that over the course of the year, he has learned how to adapt and fit a year of learning into a semester class on the block schedule.
Haugen ended his statement with a plea: "I would also like to just ask that we please try to not continue the decisiveness that this issue has brought. It has been brought into my life, and into my building, over the last three years. It also makes coming to work not the place I want to come to when I feel like staff are divided against me and what I might believe," Haugan said, "and that the community is divided against me no matter how hard I work at doing what I care to do [at WHS]."