Building Community Connections: Visiting folk artist takes WHS students on tour of Wenatchee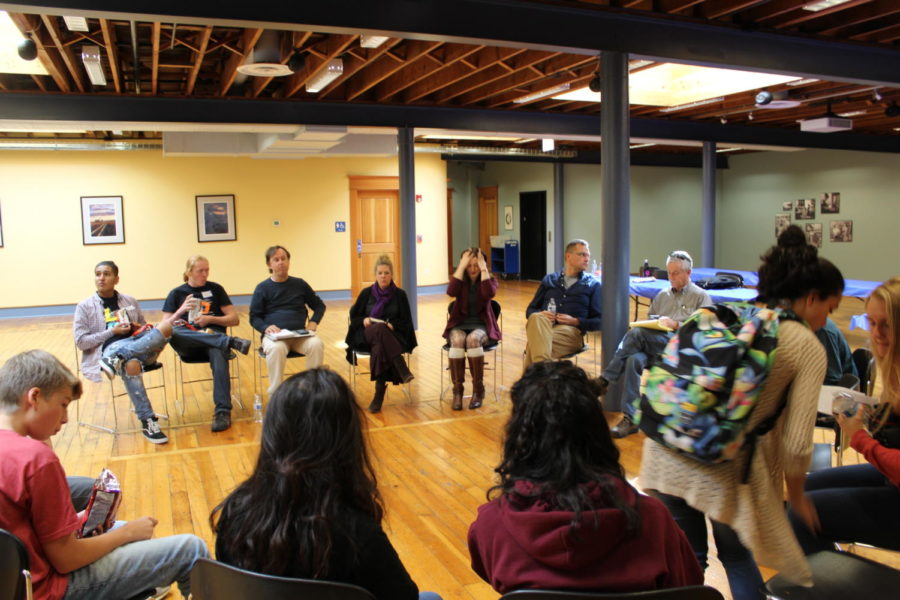 On Oct. 3, a group of Wenatchee High School and WestSide High School students accompanied author and singer-songwriter Dar Williams as she explored different opportunities for community building in the Wenatchee area. Williams and the students discussed different ways the public could utilize projects such as the Pybus Public Market, RadarStation and the redesign of Methow Park.
   Williams is a musician based out of Cold Spring, New York, who writes and performs pop-folk music. With 13 albums and a career spanning over 28 years, Williams holds an impressive       resumé.
   Rather than touring large cities and popular venues, Williams choses to perform in small town venues, as the culture and community appeals to her. While she traveled throughout the nation to these modest locations, she began to notice patterns in what cicumstances led some communities to struggle and some to thrive. She recorded her observations and theories in her book "What I Found in a Thousand Towns: A Traveling Musicians Guide to Rebuilding America's Communities – One Coffee Shop, Dog Run, & Open-Mike Night at a Time".          
   Though she continues to tour small towns, her interactions with the people aren't purely musical; they're about building "Positive Proximity". Williams believes Positive Proximity is how well people interact with each other in a variety of places with a diverse range of activities within the community. Ideally, these interactions lead people to form lasting relationships, both with the people around them as well as the places they live.
   Williams used her expertise and experience to facilitate discussion on the projects within Wenatchee. At Methow Park, Terry Valdez introduced redesign plans – including the installation of a small soccer field, water features and a central gazebo – which he drafted with community member Misael Fajardo-Perez. After the presentation, Williams specifically noted the gazebo as a potential hotspot for Positive Proximity.
"[The Gazebo] seems like it will be a great community center." Williams said, "I think it will be an asset to the neighborhood."
Students agreed.
   "I'm really excited about Methow Park" said freshman Braedon Russell, who was one of 15 students to accompany Williams throughout the day. Russell noted "I think it's a place everyone can go, and I think that I would want to be there, and I would feel comfortable there."