Music mayhem: The best music festivals in the United States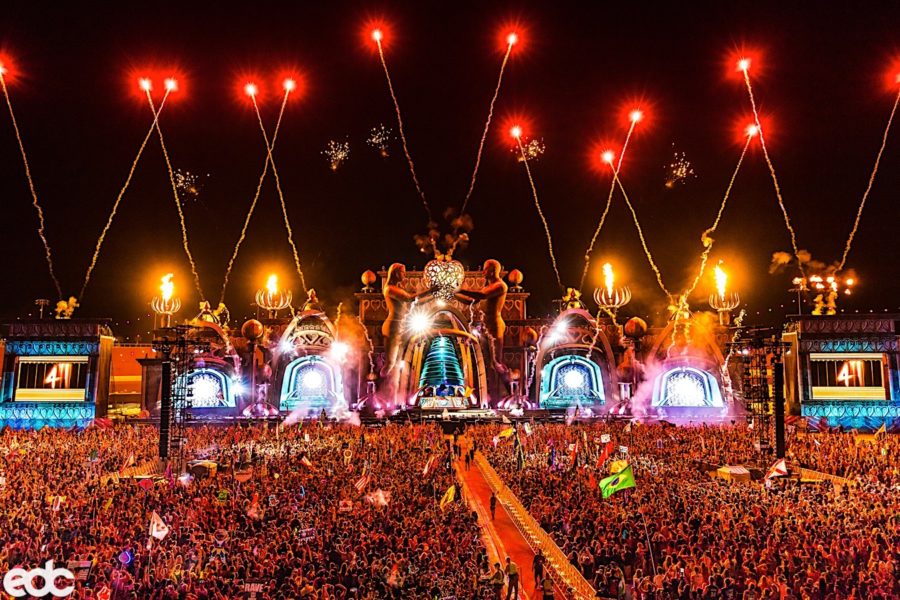 "It's the most wonderful time of the year." While this phrase may have many thinking of Christmas trees and winter break, the reality is that this wonderful time is right now! As spring weather has finally blessed the Wenatchee Valley, so too has the release of multiple music festival lineups. Music festival season is upon us, and if you're looking to make the most out of the next few months here our my picks for the top music festivals in the United States:
1.) Electric Daisy Carnival (EDC)
  Electric Daisy Carnival, or EDC, is the largest electronic music and arts festival in the U.S. Taking place in Las Vegas, this year's festival will be held May 17–19 and will feature dance music's greatest artists. Although the 2019 lineup isn't announced yet, Marshmello, Martin Garrix, Tiesto, David Guetta, Zedd, Armin Van Buuren and many other headliners are rumored to attend. While the festival is known for its incredible lineup, with over 240 artists attending last year's festival, the true draw is the stellar production design, with eight unique stages, multiple rides, incredible art installations and an enormous fireworks presentation that makes the festival one to remember. The festival is a constant party, with attendees dancing under the electric sky from sunset to sunrise. This year's theme is Kinetic Energy and will feature Bill Nye taking part in the opening ceremony. That's right, Bill Nye will be at a rave, and if that's not evidence enough that this festival will be one for the history books, I don't know what is.
  2.) Coachella
  Arguably the most mainstream festival on this list, even I can't deny the strength of Coachella's lineup and allure. Selling out 252,000 tickets in six hours, you'll have to hope someone is willing to sell their ticket if you're planning on attending this year's festival. Childish Gambino, Tame Impala, Ariana Grande, Janelle Monáe, The 1975, Solange, Khalid, Kid Cudi, Zedd, and Juice WRLD are set to headline this year's festival, marking one of the strongest headlining ensembles in recent memory. This year's festival will be held over two weekends in sunny California, with the first taking place April 12-14 and the second occuring April 19-21. If you're hoping to be in attendance for this cultural icon of a festival, start trying to find a ticket ASAP.
3.) Bonnaroo Music and Arts Festival
  Held in Tennessee, Bonnaroo is Creole slang for 'a really good time' and it lives up to its name. The four-day music and arts festival has been a staple for multi-genre musical entertainment since its inception in 2002, and has been praised for its focus on community and giving back as the festival regularly contributes to charities including Doctors Without Borders, Head Count, MusiCares, Habitat for Humanity, Boys and Girls Club of America, Rock the Earth, the American Red Cross and the Sierra Club. Along with the festival's communal atmosphere, the most important factor, the music, is top tier. Childish Gambino, Post Malone, ODESZA, The Lonely Island, Phish, Walk The Moon and Cardi B are headlining this year's festival. This year's festival will be held June 13-16, and with Rolling Stone magazine citing it as "the ultimate over-the-top summer festival," it's a great way to cap off the end of the school year.
4.) Lollapalooza
  One of the most diverse music festivals around, Lollapalooza tailors to a wide audience as it features a wide range of musical genres. This year's festival will be held August 1-4 and has a strong, diverse lineup. Headliners include: Ariana Grande, Twenty One Pilots, The Chainsmokers, Childish Gambino, Tame Impala, The Strokes, Flume, AJR, 21 Savage, J Balvin and Lil Wayne. The Chicago based festival features over 170 bands across eight stages, taking over the entirety Chicago's Grant Park. The 160,000+ attendees are guaranteed to find enjoyment beyond the music as a variety of art installations, pop-up carts and local food vendors from some of Chicago's best restaurants are scattered throughout the festival grounds. Four-day and one-day passes are available, so whether you want the full festival experience or you just want to spend one day and catch your favorite artist, there's an option for you.
5.) Paradiso
  I couldn't go through this list without mentioning a festival at The Gorge Amphitheatre and given that Sasquatch festival wasn't picked up for the 2019 season, Paradiso is the next best thing. Although smaller than its counterparts on this list, what Paradiso lacks in size it makes up for in its production value and mainstage. The Gorge has been a Washington icon for year's as a nine-time winner of Pollstar Magazine's award for 'Best Outdoor Music Venue' it has brought in a variety of fantastic single acts as well as music festivals. Paradiso, coined as "where digital meets nature," stays true to this promise as the breathtaking view of The Gorge pairs perfectly with the upbeat production of electronic dance music. This year's lineup features a headlining cast of Skrillex, Kaskade, Alison Wonderland, ILLENIUM, Zeds Dead, Kayzo, and Rusko. Unfortunately for the underclassmen this is an 18+ event, but for you graduating seniors the festival dates of June 14-15 makes Paradiso a great way to celebrate an end to your high school careers.