Best Cinnamon Rolls In The Valley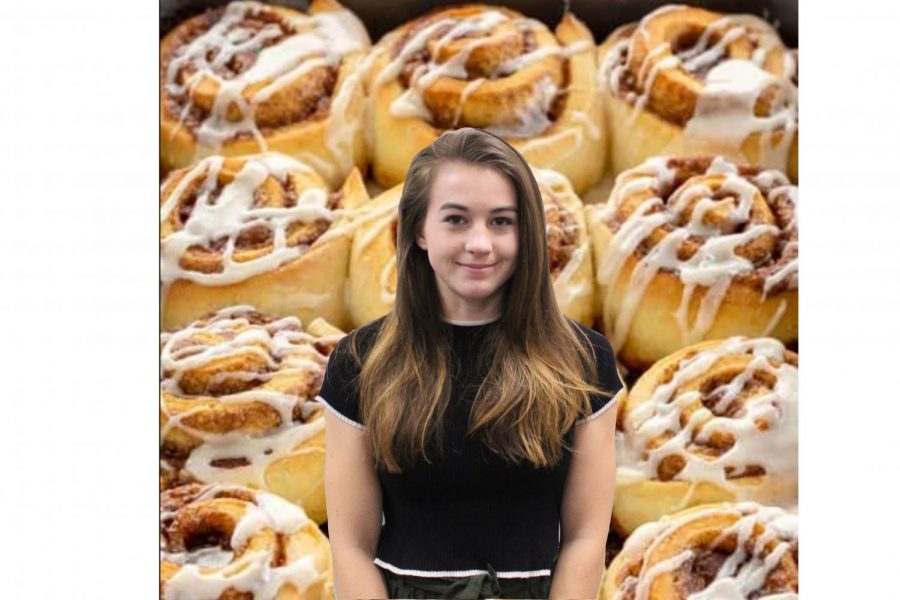 I think that it's safe to say that cinnamon rolls are pretty universally loved. Even my sister (who hates cinnamon) has a soft spot for these buns of goodness. Unless you are one of those weird people that don't like things like ice cream, donuts or fun, cinnamon rolls are always a good way to go when choosing a treat. Thus, my journey began as I decided to set out and find the best cinnamon roll in the Wenatchee Valley. The bakeries I went to were Anjou Bakery, Glaze Bakery, Sure To Rise Bakery, Cafe Columbia and Sage Hills Bakery. I will be judging them on price, presentation, overall taste, texture and frosting.
Bakeries:
Anjou:
Cafe Columbia:
Sage Hills Bakery:
Glaze Bakery:
Sure to Rise Bakery:
Scoring Guidelines:
Price:
Looks:
Overall Taste:
Texture:
Frosting:
Anjou Bakery:
Overall Taste: 8
Price: 4 (4.25)
Presentation: 6
Texture: 8
Frosting: 0 (None)
  In the past, when I tried Anjou's cinnamon rolls I was severely disappointed, so I wasn't expecting much from theirs. I arrived at Anjou shortly after they opened and was able to grab a fresh cinnamon roll. Anjou uses croissant dough for their cinnamon roll which makes it extremely flakey, but on some accounts, dry. There was some beautiful caramelization on the bottom where the sugar and cinnamon from inside the roll melted to make a nice caramel bottom. I went into Anjou knowing that there would be no frosting included with the roll, but it still didn't stop me from being disappointed. In my opinion, almost anything can benefit from cream cheese frosting. I also should mention that eating this cinnamon roll makes a huge mess, as it splits apart and flakes onto literally everything. That being said, this was my mom's favorite, but she likes anything French.
Sure To Rise:
Overall Taste:5
Price:9 (3.00)
Presentation: 8
Texture:5
Frosting: 4
    You probably haven't heard of this bakery because it's in Cashmere, but in my opinion, it's worth the trip. I've been getting donuts from here for a while now (I highly recommend the butterflake donut) and I had high expectations for this cinnamon roll. When I got there, I found out that they had two options for cinnamon rolls, so I picked the bigger and fluffier version. In my opinion, Sure To Rise's cinnamon roll was by far the best bang for your buck, as it was double the size of a normal cinnamon roll, for less than the price of just one. This cinnamon roll was sub-par I would say, it was fine but it didn't really hit the spot. It looked beautiful, as it had this pretty crosshatched frosting drizzle that made it look spectacular (although the frosting/drizzle didn't add much else). It wasn't too bad and was a little more fluffy when heated, but overall kinda eh.
Cafe Columbia:
Overall Taste: 5
Price: 9 (3.00)
Presentation: 7
Texture: 5
Frosting: 7
    Cafe Columbia offers two different types of frosting for their cinnamon rolls (cream cheese and regular) which I highly appreciate. Although, if I'm being honest, they could have just left it with cream cheese frosting and I would've been happy. Obviously I picked cream cheese frosting for my roll, and although the frosting was fine, (I've had better cream cheese frostings) the overall taste of the cinnamon roll was pretty much bland and flavorless. The dough was kind of dense and really chewy which isn't exactly what I look for in a cinnamon roll either.
Sage Hills Bakery:
Overall Taste: 10
Price: 9 (3.00)
Presentation: 7e
Texture: 9
Frosting: 8
     Walking into Sage Hills Bakery I was excited to see what looked like the perfect cross between a fluffy and ooey-gooey cinnamon roll. The rolls looked homemade and as if they were baked that morning (I couldn't say the same for Glaze) and they came with frosting on the side. Hands down this was the best cinnamon roll that I had tasted. Now, I don't say this lightly, but it didn't even need frosting. I heated every cinnamon roll in the microwave for 15 seconds before trying each one with little to no improvement, but this one became 10 times better. That's saying a lot because this cinnamon roll tasted good before I even put it in the microwave. I appreciate the frosting being on the side, as it gives those with less of a sweet tooth the option to opt-out of the extra sugar, and I honestly thought it was great with or without it. This frosting was an orange-flavored frosting which I wasn't expecting but was a pleasant surprise.
Glaze Bakery:
Overall Taste: 6
Price: 4 (4.30)
Presentation: 7
Texture: 5
Frosting: 3
    I was highly disappointed with Glaze's attempt at a cinnamon roll. The rolls I had to choose from were packaged separately and looked like they could have been sitting out for a few days. The cinnamon roll was similarly high with Anjou's pricing, but had no fancy croissant dough or crazy size justifying the price. The cinnamon had way too sweet of frosting and way too much of it. It made my teeth hurt just biting into it. The cinnamon roll had a stale taste so I didn't eat much of it, but my little sister had no problem finishing it off after wiping off the excess frosting.