WHS athletes alumni Tyler Farrar and Isaiah Brandt-Sims leave behind a legacy
    Athletics are woven into the fabric of the Wenatchee Valley. The rolling foothills call out to be hiked, the crisp Columbia beckons us to jump in and swim and Mission Ridge tempts us each winter with its freshly fallen powder. 
    It wouldn't be complete, however, without it's capacity for competitive sports. Whether it's Friday night football games or cycling races along the loop, the cultural importance of athletics permeate through our valley.
    Wenatchee also happens to be the hometown of athletes who have developed their skills and talents to perform at national and even global levels. Let's take a look at the athletes that once walked through the halls of Wenatchee High School and went on to leave a mark on their respective sport. 
    As a senior at Wenatchee High School in 2002, Tyler Farrar had his sights far beyond the valley. By 18 years old, Farrar was a cyclist a part of the U.S. National Team while traveling around the country and beyond for cycling.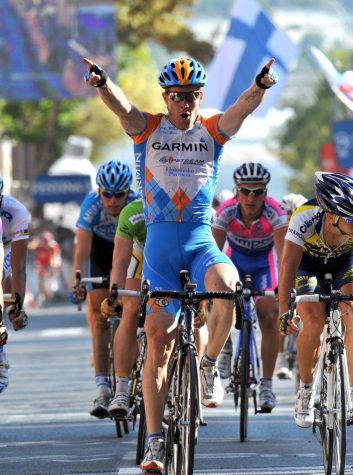 Farrar began cycling in his early childhood, spending time riding along the loop trail and around the Wenatchee Valley. Coming into high school, Farrar had begun to realize that his sport could potentially become his career.
    "Making it as a pro cyclist was a dream come true," Farrar said. "I had enough success early on that I had hopes of a professional career racing bikes, but nothing is a given, so I knew I would need to stay diligent with my training."
    After turning pro in 2006, Farrar went on to find success at the world's most competitive races, including winning stages at all three grand tours: the Giro d'Italia, the Tour de France and the Vuelta a España. He has competed against some of the most talented athletes in the sport, while building a reputation of his own as one of the U.S.'s top cyclists.
    Although competitive cycling is less common in the U.S. for the typical high schooler, prior to going pro, Farrar was able to capitalize off his passion for the sport and the setting around him.
    "I think Wenatchee was a fantastic place to grow up as an aspiring cyclist. The riding is incredible, and there is a lot of community support for the sport. Cycling requires a great deal of travel for competitions, but I always enjoyed coming back home and riding the roads around the valley," Farrar said.
    Unlike your typical weekend bike ride, professional cycling is no easy feat. Races can last days, span across countries and include a variety of terrain and inclines, all while traveling at an upwards of 25 miles per hour in a tightly packed formation called a peloton. These conditions can often lead to crashes, and injury is not uncommon within the sport.
    "There is a great deal of luck involved in turning pro in any sport," Farrar said. "I was fortunate enough to avoid any of the major injuries that can derail a career."
    Most of Farrar's career was spent living abroad, competing in races through Europe, picking up several languages and getting to know various other cultures. Now, after 14 years, Farrar has retired from professional cycling, begun a career as a firefighter and can look back on an incredible career from the past couple decades.
    "I feel very lucky to have experienced such an adventure. I remember finishing my first Tour de France and really feeling like I had finally 'made it' as a cyclist," Farrar said. "It's also a special feeling to have the opportunity to represent your country in the Olympics; sometimes, when I look back on it I can't believe it actually happened!"
    In 2014, Isaiah Brandt-Sims graduated from WHS after committing to Stanford University for both track and field and football. During his high school career, Brandt-Sims was a four time state champion in both the 100m and the 200m, earning him a total of eight state championships, while repeatedly breaking his own school records in the 100m and 200m. In football, he was first-team All-State in 2013 and All-Conference in 2012 and 2013.
    After graduation, Brandt-Sims made his way to Stanford University on a full-ride scholarship, where the transition out of Wenatchee prompted many changes. In sports, he says his level of commitment increased drastically.
    "In high school, I had classes all day, so there wasn't very much time to lift or go to the practice field or review the playbook before actual practice started. In college, I had to start reviewing our playbook daily. In between classes, I would go to the gym, stretch or take an ice bath to make sure I wasn't sore for practices."
    Despite the initial adjustment period, Brandt-Sim's accomplishments continued in college as a part of the Stanford track team and as a wide-receiver for the Stanford football team. Furthermore, while he was earning the title of a three-time track All-American, breaking Stanford records eight times and becoming finalist three times for the NCW College Male Athlete, Brant-Sims was simultaneously completing his undergraduate and masters in computer science. With such a heavy academic and athletic workload, Brandt-Sims attributes his success to planning and staying organized.
    "Once I had my class and practice schedule, sitting down and planning out when I would work on homework, study my playbook and sleep was a major thing in keeping my life organized. In college, new assignments and unexpected traveling for sports pop-up, and I had to be very diligent in keeping a schedule for when to focus on school and when to focus on sports," Brandt-Sims said.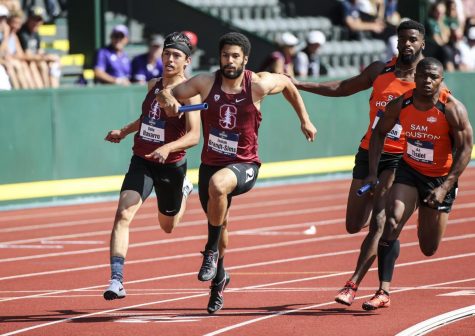 Previously, smaller program sizes in Wenatchee provided Brandt-Sims with the opportunity to spend more one-on-one time with coaches getting specialized workouts and training plans. However, there were times that being in a smaller region hindered the ability to compete against a larger variety of opponents. But, despite the size or scale, Brandt-Sims says that throughout his career he viewed all games and races with a similar approach.
"Whether it be a scrimmage, a non-league game, racing at a home track meet or going to nationals, every competition should be treated the same way," Brandt-Sims said. "Competing on a larger stage did make me nervous, but following my plan and trusting what my coaches taught me kept me feeling calm and composed."
    For athletes aspiring to continue their career beyond high school, Brandt-Sims says focus is key.
   "Firstly, focus on your craft. Whatever position you are playing learn it inside and out. Practice the physical part every day, and focus on getting better at something each time you go out to practice," Sims said, "Secondly, do your best in school. A lot of colleges want to see you are doing well in sports but also in school. Keep your grades up, and try to fit in those harder classes when your schedule allows it. Everyone wants to see you do well, especially your teachers."
Leave a Comment