Summer Hiking Guide
    With summer approaching I know I am ready to spend a majority of my time outside. The best way for me to clear my mind and spend time with my family and friends is to hike. Hiking in Washington State is absolutely beautiful, but I know we all get tired of saddle rock, and basic hikes around the Wenatchee area. Personally I am willing to drive extra to get to new and more rewarding hikes. The greater Wenatchee area, and the Leavenworth area especially have some of the best hikes in Washington. Here's my take on the most underrated and beautiful hikes just outside of Wenatchee that more people need to experience.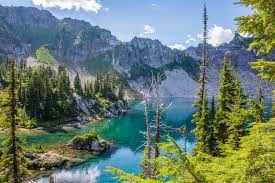 Tucked a few miles east of Stevens Pass are Minotaur and Theseus Lakes. This is a 3.5 mile round trip hike, but a huge workout. It is a non stop climb straight up-hill the whole way, but the views are totally worth it, definitely one of my favorites.
I think we are all familiar with Colchuck Lake, one of the most popular hikes in Washington. Colchuck is a hidden alpine gem, tucked a few miles outside of Leavenworth. It is a 8 mile round trip hike with lots of elevation gain. A perfect mid-summer hike, and the best part has to be jumping in the cold water after hours of hiking.
Lake Valhalla has to be at the top of my list. A 7 mile round trip hike with astonishing lake views and sandy beaches. The trail meets with the famous Pacific Crest Trail half way through where you can find thru-hikers finishing their journey from Mexico to Canada. 
    If you're looking for a less challenging trail I would recommend Icicle Gorge trail. It's a 4.5 mile loop with no elevation gain just outside of Leavenworth as well. There are lots of bridges, waterfalls, picnic areas and swimming holes along the way.