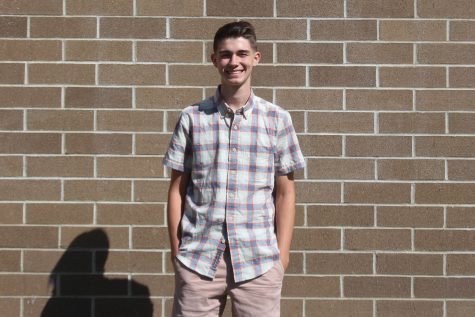 Layne Knipfer is a first year staffer and reporter on
The Apple Leaf.
He is a middle aged soccer dad who enjoys coffee, men's health magazines and long walks with his
Shih Tzu,
Penelope. He works part time as a Sherpa and is currently single. He is just a Troy Bolton looking for his Vanessa Hudgens (read: Layne is desperate for somebody to love him). His favorite hobby is knitting, but he only uses ivory elephant tusks for needles which he imports from a black market based in Ethiopia. Layne's greatest accomplishment is finishing a footlong Subway sandwich in 27.4 seconds. One time Layne scored half a point in a basketball game and it was his proudest moment. Layne loves Apple Leaf because he gets to spend time with his two biggest role models, Sabrina Zhu and Moses Lurbur.
Layne Knipfer, Staff Reporter
May 14, 2017

Sports Med Program participates in NCW Tech and STEM showcase

(Story/Photo)

Feb 13, 2017

Amy Sand crowned Apple Blossom queen

(Story)

Jan 11, 2017

Apple Blossom candidates present speeches to student body

(Story)

Jan 06, 2017

Seniors go head-to-head in Apple Blossom Royalty race

(Story)

Nov 10, 2016

Wenatchee soccer takes a loss to Kentridge

(Story)

Nov 02, 2016

Wenatchee falls to West Valley in district championship bout

(Story)