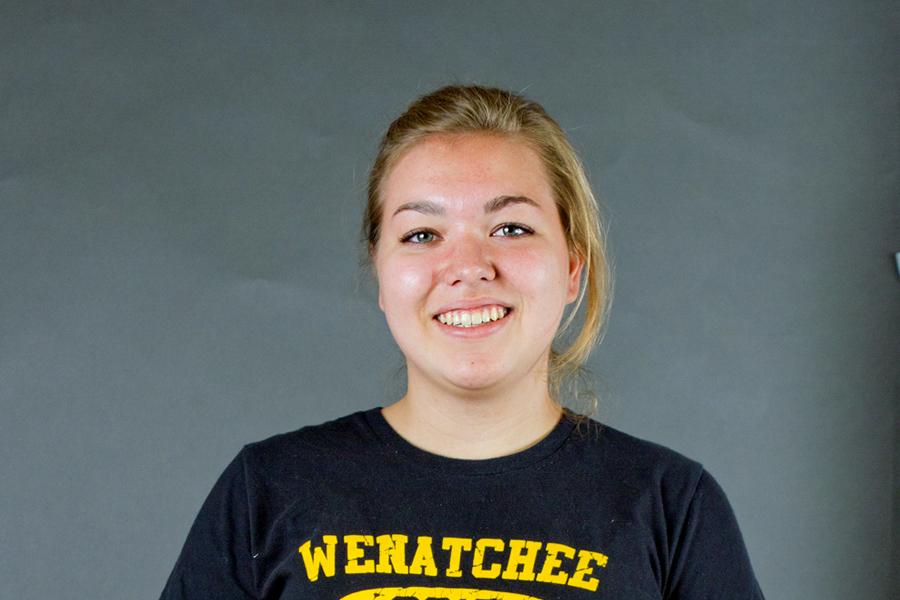 Adrian Robinson is a first-year Staff Reporter for
The Apple Leaf
. Adrian's favorite subject is English, and she loves all aspects of it, especially writing. She is hoping that she will improve her writing skills through her experiences on
The Apple Leaf
, and is ready to embrace the world of journalism.
Adrian is a member of both FFA and 4-H, where she raises rabbits to show at both local Fairs. She volunteers as a teen project leader in 4-H, teaching children how to care for their animals. Adrian loves spending time with her family and her friends, and enjoys swimming, hiking, and reading in her spare time.
After graduating High School, she plans on attending a four-year university to become an English teacher.
Adrian can be reached by phone at (509) 670-3070 or via e-mail at:
[email protected]
.
Adrian Robinson, Staff Reporter
Nov 15, 2015

Wenatchee and Eastmont cross country teams come together to support cancer patient

(Story)

Oct 14, 2015

Male students dance their way onto the cheerleading team

(Story)

Jun 01, 2015

Soccer makes school history at State; track, tennis, golf updates

(Story)

May 19, 2015

Panther teams advance to playoff games

(Story)

May 18, 2015

Rally unifies the voices of two districts: Fund education

(Story)

May 10, 2015

Wenatchee High School commencement speakers selected

(Story)

Apr 30, 2015

School board approves CORE 24 waiver, state board to act

(Story)

Apr 06, 2015

Depression, suicide on the rise, survey says

(Story)

Mar 25, 2015

Newberry, Danko lead Apple Leaf staff at State

(Story)

Mar 25, 2015

Tennis girls place first at Coke Classic

(Story)

Mar 10, 2015

Students, staff respond to Celebrezze move

(Story)

Mar 04, 2015

Lurbur to compete at cross country Nationals

(Story)

Mar 01, 2015

Meet the new Apple Blossom Queen Gabby Waterman

(Story)

Jan 22, 2015

State graduation requirements could mean another daily schedule change

(Story)

Dec 14, 2014

State legislators hear of sub shortage, teacher pay concerns at town hall

(Story)

Nov 26, 2014

Student: Dance monitors 'ill-equipped, untrained'

(Story)

Nov 25, 2014

Freshman earns Microsoft Office Word Specialist; 'a huge honor'

(Story)

Nov 06, 2014

New opportunity for students to join mock trial team

(Story)

Nov 05, 2014

Formulating a future; selecting a service

(Story)

Nov 05, 2014

Class reduction put into a vote

(Story)

Oct 12, 2014

Adjusted schedule this week to accommodate Parent-Teacher Conferences

(Story)

Sep 24, 2014

Captains of the fall sports teams

(Story)