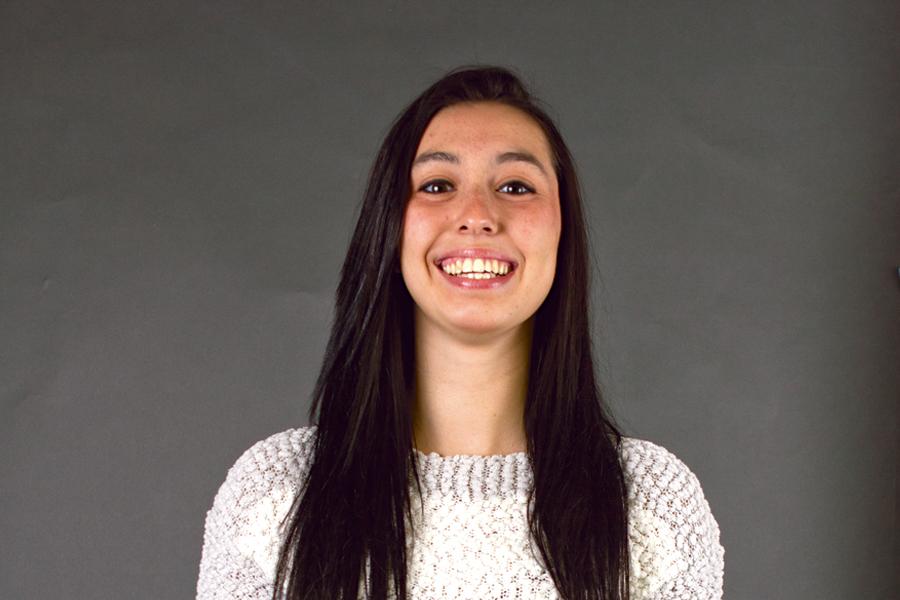 Kiana Wilson is the 2014-2015 Opinion Editor of
The Apple Leaf
. Working as Copy Editor the year before, Kiana looks forward to representing the diverse opinions within Wenatchee High School.
Aside from publications, Kiana is a varsity member of the Wenatchee High School Debate Team, for which she has won many awards, including sixth place overall at State Competition in Interpretive Reading during her sophomore year and third place overall her junior year. She enjoys volunteering during her spare time, and her personal interests include music, literature, history, and travel.
Kiana has enjoyed writing since a young age. Thanks to
The Apple Leaf
, she has learned so much about writing and has been pushed to strengthening her skills. Two years ago Kiana competed in the National Scholastic Press Association National Conference in 2013 and received an excellent in editorial writing. She owes her success to her journalism teacher, Mr. Riggs, for without him she never would've entered the contest or been successful during class.
Kiana can be contacted via email: 
[email protected]
. Feel free to send her your opinions, thoughts on the paper, and ideas.
Kiana Wilson, Opinion Editor
Jun 01, 2015

Soccer makes school history at State; track, tennis, golf updates

(Story)

May 20, 2015

Soccer moves on to State quarterfinals

(Story)

May 19, 2015

Panther teams advance to playoff games

(Story)

May 14, 2015

Mr. Panther candidates ready to hit stage for 12th annual pageant

(Story)

Mar 25, 2015

A slice of Stehekin

(Story)

Mar 25, 2015

Boys soccer victory over Shadle Park overshadows season losses

(Story)

Mar 25, 2015

Tailored threads: Mariah Hetterle designs, makes clothes

(Media)

Mar 19, 2015

Breaking the stereotype for competitive dancers

(Story)

Feb 12, 2015

Secret rooms of WHS

(Story)

Feb 10, 2015

Sole searching: The truth about shoes

(Media)

Feb 05, 2015

Inside debate: Adviser Dave Carlson

(Media)

Dec 17, 2014

Winter sports in full swing: Bowling team, Symonds sets school records

(Story)

Dec 17, 2014

Opinion Editor chooses top five places to sled

(Story)

Dec 11, 2014

Holiday spirit: Can you hear it (at Cocoa Cafe)?

(Media)

Dec 09, 2014

Winter sports: Non-league games for one team, losses for others

(Story)

Nov 26, 2014

Working double time: Teachers with more than one job

(Media)

Nov 13, 2014

PHOTOS: Hairspray hits the stage with eight performances on schedule

(Story/Media)

Nov 05, 2014

GA Band competition results on top

(Media)

Nov 05, 2014

Going on the ride of their lives

(Media)

Nov 05, 2014

Soccer team prepares for the fight to State

(Story)

Nov 03, 2014

Panther teams on the road to State

(Story)

Oct 31, 2014

Talented senior Gabe Massey strives to become a musician

(Media)

Oct 27, 2014

Districts and State on the line for Panther teams

(Story)

Oct 24, 2014

From Germany to America: 18 students visit WHS on exchange

(Media)

Oct 15, 2014

Students embrace rock climbing as hobby, sport

(Story)

Oct 15, 2014

How modern America has come to support homosexuals

(Media)

Oct 13, 2014

Volleyball, soccer take on Eastmont, battle for State berths

(Story)

Oct 06, 2014

Golden Apple Band takes eighth at first competition

(Story/Media)

Sep 24, 2014

Get to know the Panther quarterbacks

(Media)

Sep 24, 2014

Captains of the fall sports teams

(Media)

Sep 24, 2014

Broke before college

(Story)

Sep 21, 2014

Swimming stays undefeated; football crushes Eisenhower; Christman wins meet

(Story)

Sep 15, 2014

Panther sports pulled through over the weekend

(Story/Media)

Sep 11, 2014

All corners of the world: WHS over the summer

(Story/Media)

Aug 25, 2014

Freshmen Ignite brings new relationship building tools

(Story)

Jun 06, 2014

Class of 2014 makes a grand, purple exit

(Story/Media)

Jun 04, 2014

Spring Sports All-Stars

(Story)

Jun 02, 2014

WHS rolls out the red carpet for Prom

(Media)

May 22, 2014

Spring athletics entering postseason play

(Story)

May 20, 2014

Humans of Wenatchee High School

(Story/Media)

May 14, 2014

Boys lacrosse moves on to playoffs

(Story)

May 14, 2014

Junior Service League of Wenatchee raffling off prom dresses

(Media)

May 02, 2014

Coaching changes coming to Panther athletics

(Story)

Apr 30, 2014

REVIEW: Top 5 best choices for lunch at the Food Fair

(Media)

Apr 24, 2014

FFA sends 15 to State with District titles

(Story)

Apr 22, 2014

High school homepage hack allegations false

(Story)

Mar 28, 2014

Boys lacrosse earns first win without head coach

(Story)

Mar 28, 2014

Girls lacrosse kicks off season without seniors

(Story)

Mar 26, 2014

Movie review: Divergent

(Story)

Mar 26, 2014

Talented singer has big plans for the future

(Media)

Mar 19, 2014

BREAKING: Stone's basketball coaching contract not renewed

(Story)

Mar 05, 2014

Wrestlers post season goals pinned

(Story)

Mar 05, 2014

Debate sends two to Nationals

(Media)

Mar 05, 2014

Winter Sports All-Stars

(Story)

Feb 26, 2014

BREAKING: Kuntz to replace Franza as Dean of Students in 2014-15

(Story)

Feb 13, 2014

Panthers wrestle through post season

(Story)

Feb 13, 2014

Catholicism and Protestantism: are they really that different?

(Story)

Feb 13, 2014

New football trainer brings quick results

(Story)

Feb 13, 2014

Marine Corps bound: Walter Reyes

(Media)

Jan 30, 2014

UPDATE: Students, staff support Knaggs ruling

(Story)

Jan 23, 2014

MLK's dream in a new perspective

(Media)

Jan 23, 2014

BREAKING: District reinstates basketball coaches; staff, students respond

(Story)

Jan 23, 2014

Divergent – book review

(Story)

Jan 23, 2014

Wrestlers battle through team injuries

(Story)

Jan 17, 2014

MLK assembly addresses several types of discrimination

(Story/Media)

Jan 16, 2014

Two boys basketball coaches placed on administrative leave

(Story)

Jan 07, 2014

New teacher evaluation system stresses staff

(Story)

Dec 20, 2013

Winter festivities send students out with spirit

(Media)

Dec 18, 2013

Celebrezze and students talk training and accommodating for modified block

(Story)

Dec 18, 2013

Wrestlers show impressive preseason

(Story)

Dec 18, 2013

Is the building big enough for both?

(Media)

Dec 09, 2013

New school board members finally chosen

(Story)

Dec 06, 2013

BREAKING: Varsity basketball coach suspended for "league violation"

(Story)

Nov 27, 2013

Cross country runs into tough teams at State

(Story)

Nov 27, 2013
Nov 09, 2013

Panther history made as all fall sports earn trip to State

(Story)

Nov 06, 2013

Both cross country teams advance to State

(Story)

Nov 06, 2013

The Fifth Estate movie review: 3/5 leaves

(Story)

Oct 09, 2013

WHS senior on the mend after crash

(Story)

Oct 09, 2013

Ranking second in the District, boys and girls cross country continue success

(Story)