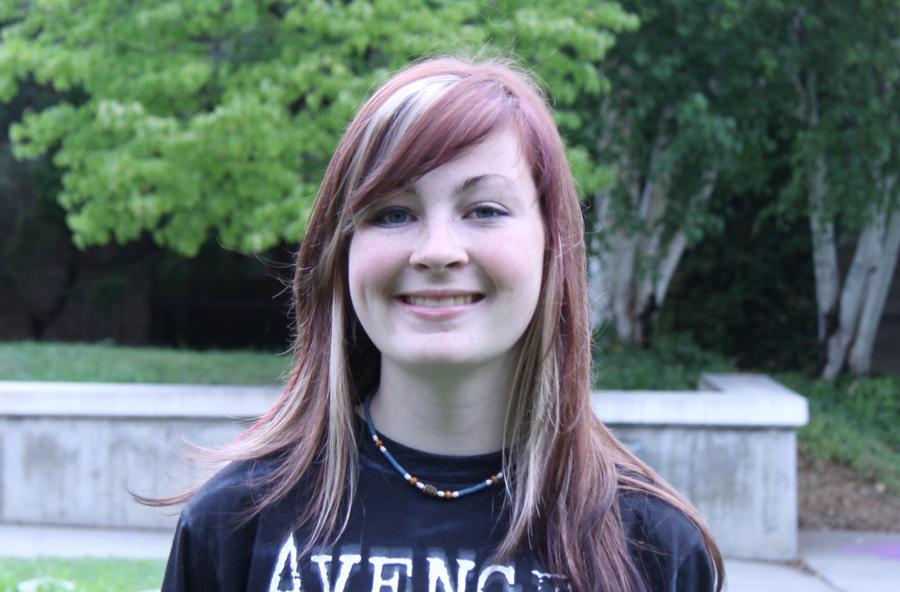 Kim Elliott is a staff reporter for The Apple Leaf. She enjoys persuasive writing and can write for either side of an argument objectively, even though she prefers writing from her own personal experience and/or opinion.
Typically Kim can be found reading books of any sort along with writing her own. Aside from literature, she enjoys horseback and motorcycle riding, jet skiing, photography, and cooking.
Apple Leaf seemed like a good way to join a group of people working towards a common goal, a sort of sports team, exercising your mind more than your body. Kim hopes someday her writing ability will take her farther than a few novels. Why not start with a newspaper?
Kim hopes to contribute all that she can to The Apple Leaf and its team, a group of incredibly dedicated people who truly want their work to be heard and understood, not just read. She's looking forward to a great year filled with incredible work!
Kim Elliott, Staff Reporter
Jun 04, 2014

What do the speakers have in store for the ceremony?

(Story)

Jun 04, 2014

Students elect next senate

(Story)

Jun 03, 2014

Graduation day means scootering to school: A WHS tradition

(Story)

May 14, 2014

Mr. Panther fuels beneficiary's fight against cancer

(Story/Media)

May 01, 2014

Alcohol Awareness Month sparks call to action for administrators

(Story)

Apr 24, 2014

FBLA plays Easter Bunny for kids

(Story)

Apr 10, 2014

Debate qualifies two for Nationals; first time in four years

(Story)

Mar 26, 2014

Hours increase delayed to 2015-16

(Story)

Mar 05, 2014

State officials wrestling with issue increasing instructional hours

(Story)

Mar 03, 2014

Senior presentations and conferences create half days this week

(Story)

Feb 13, 2014

Rule adds 80 school hours in 2014-2015

(Story)

Jan 23, 2014

MLK's dream in a new perspective

(Story)

Dec 18, 2013

Is the building big enough for both?

(Media)

Dec 18, 2013

Autocad builds underwater ROVs

(Story)

Dec 18, 2013

Swimmers show improvement as season progresses

(Media)

Dec 18, 2013

Girls basketball struggles early

(Story)

Dec 06, 2013

BREAKING: Varsity basketball coach suspended for "league violation"

(Story)

Nov 27, 2013

Curtain falls on Shrek: The Musical

(Story)

Nov 13, 2013

School board election results due Nov. 26

(Story)

Nov 06, 2013

Mariachi holds Fall Fiesta

(Story)

Nov 06, 2013

Interact Club hopes to raise $70,000 for project

(Media)

Oct 30, 2013

Food and music fiesta to raise funds for WHS Mariachi

(Story)

Oct 18, 2013

History teacher, bowling coach suffers heart attack; now recovering

(Story)

Oct 09, 2013

WestSide High School debuts new facility

(Story)

Oct 09, 2013

Enjoying life despite obstacles

(Story/Media)

Oct 09, 2013

Blood drive saves nearly 200 lives

(Media)

Sep 20, 2013

WHS welcomes 14 new staff members

(Story)