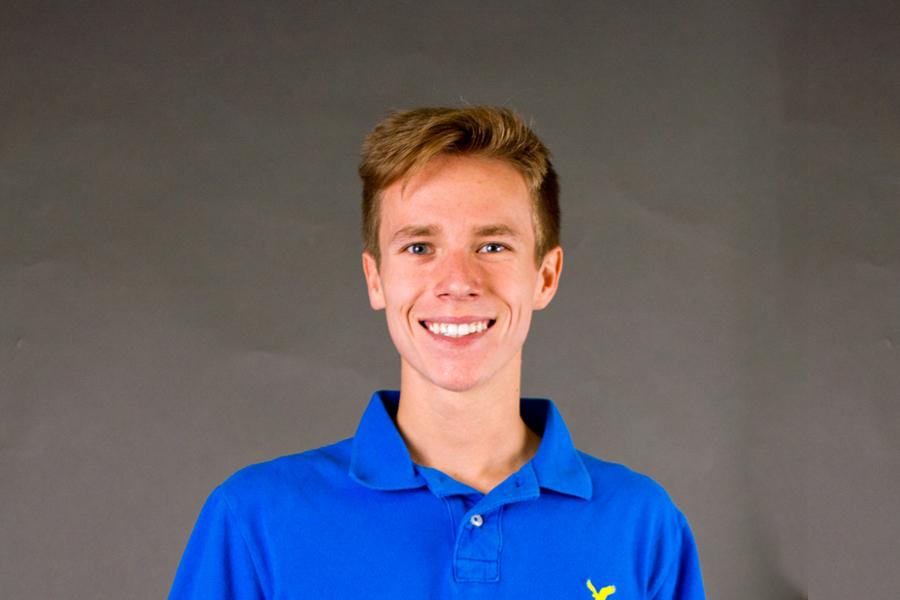 Bryce Newberry is the Online Editor of
The Apple Leaf.
After helping launch the website in 2013, he is excited for the digital department to grow in 2014.
In addition to
The Apple Leaf,
Bryce is the Assembly Coordinator for the Wenatchee High School ASB, and the Student Director of musicals and plays in the WHS Auditorium. Bryce is an Online Reporter for Teen Kids News, a 30-minute weekly news show for kids by kids, located in Connecticut.
In 2014, Bryce won "Excellent" in news-writing contests at the Washington Journalism Education Association and National Scholastic Press Association conventions. Also in 2014, whsappleleaf.com won Site Excellence and Audience Engagement from the hosting company, School Newspapers Online.
At age 7, Bryce met a student who was studying Broadcast Journalism. Since then, he has been interested in journalism and still keeps in contact with her. Kacey Drescher graduated and started her career as producer, anchor, and reporter at KFBB-TV in Great Falls, MT. All credit and thanks for "the dream", he says, goes to her!
Bryce can be contacted at 509-881-5243 or via email: [email protected].
Bryce Newberry, Online Editor
May 22, 2015

Waiver delays new graduation requirements for two years

(Story)

May 18, 2015

Rally unifies the voices of two districts: Fund education

(Media)

May 14, 2015

Music mural disappears overnight, new paint coming

(Media)

May 07, 2015

District teachers consider walkout to encourage education funding

(Story)

May 04, 2015

Police arrest student for threatening to kill school administrator

(Story)

Apr 30, 2015

Anderson confirmed as WHS principal

(Story)

Apr 22, 2015

Three principal candidates advance to community forum

(Story)

Apr 21, 2015

Former student's lawsuit accuses district of negligence

(Story)

Apr 14, 2015

Teachers vote to retain current schedule

(Story)

Apr 14, 2015

Student businessmen look to clean up with new product idea

(Story)

Apr 10, 2015

Schedule 2.0: Flones approves teacher vote on two modified-block options

(Story)

Mar 26, 2015

No discipline for former athletic director

(Story)

Mar 26, 2015

School board leader receives Jefferson Award

(Media)

Mar 25, 2015

2015-16 daily schedule changes to accommodate daily prep

(Story)

Mar 18, 2015

Search begins for new principal with hired agency

(Story)

Mar 13, 2015

Governor's whirlwind visit leaves WHS teacher with award

(Story)

Mar 10, 2015

School size, family contribute to Celebrezze's switch to Clovis

(Story)

Mar 10, 2015

Students, staff respond to Celebrezze move

(Story)

Mar 09, 2015

Eastmont School Board approves hiring of Celebrezze

(Story)

Feb 26, 2015

Bus probe costs district nearly $17,000

(Story)

Feb 11, 2015

Sellers' football coaching contract not renewed

(Story)

Feb 06, 2015

Report: Sellers' supervision lax, unaware of policies

(Story)

Feb 04, 2015

Teachers want daily prep period back

(Story)

Jan 28, 2015

School resource officer becomes a reality for school district

(Story)

Jan 16, 2015

Settlement near in middle school assault case

(Story)

Jan 09, 2015

Data reveals large discrepancies in discipline for substance-abusers

(Story)

Dec 17, 2014

The most wonderful (stressful) time of the year

(Story)

Dec 10, 2014

School board approves risk management plan, promotes Bergstrom

(Story)

Dec 07, 2014

WHS mom mass-distributes flyers in search for her daughter

(Story)

Dec 05, 2014

Apple Blossom royalty selection process begins

(Story)

Nov 26, 2014

Student: Dance monitors 'ill-equipped, untrained'

(Story)

Nov 21, 2014

Assault chaos caught on video on freshman football bus trip

(Story)

Oct 15, 2014

Private investigator will assist district with rape case

(Story)

Oct 14, 2014

Rape trial reset for Nov. 14; suspect out on bail

(Story)

Sep 25, 2014

UPDATE: Rape suspect pleads guilty to three charges of third-degree assault

(Story)

Sep 24, 2014

WHS welcomes new school year with several new staff members

(Story)

Sep 24, 2014

School board votes to move 2015 commencement

(Story)

Sep 24, 2014

Top notch music and education

(Story)

Sep 17, 2014

No Apple Bowl graduation for Class of 2015

(Story)

Sep 08, 2014

Student death prompts crisis plan at WHS

(Story)

Jun 11, 2014

Thank you: Looking back on the first year of a high school news website

(Story)

Jun 06, 2014

Class of 2014 makes a grand, purple exit

(Story)

May 30, 2014
May 23, 2014

Shrek the Musical wins Best Hair and Makeup at 5th Avenue Theater

(Story)

May 20, 2014

From high school technician to Bruno Mars team member

(Story)

May 15, 2014

Car prowler caught in the act by WHS security

(Story)

May 14, 2014

King leaves high ideals for Safety and Security

(Story)

Apr 17, 2014

BREAKING: District will not appeal Knaggs' reinstatement

(Story)

Mar 26, 2014

Two WHS students face drug charges

(Story)

Mar 26, 2014

Athletic Department faces scrutiny after unauthorized ASB spending in 2012

(Story)

Mar 26, 2014

School District begins search for new Athletic Director

(Story)

Mar 19, 2014

BREAKING: Stone's basketball coaching contract not renewed

(Story)

Mar 18, 2014

Celebrezze releases 2014-15 modified block schedule

(Story)

Mar 05, 2014

Kuntz steps away from athletic department legacy

(Story)

Mar 04, 2014

Panthers face unbeaten Bombers at State

(Story)

Feb 26, 2014

BREAKING: Kuntz to replace Franza as Dean of Students in 2014-15

(Story)

Feb 21, 2014

Boys basketball moving on to State

(Story)

Feb 20, 2014

UPDATE: Allan orders district to pay Knaggs' attorneys' fees

(Story)

Feb 13, 2014

Medical professional warns of effects on ibuprofen abuse

(Story)

Feb 13, 2014

Judge rules to reinstate Knaggs: reaction, what's next

(Story)

Jan 30, 2014

UPDATE: Students, staff support Knaggs ruling

(Story)

Jan 27, 2014

BREAKING: Judge reverses Knaggs' termination

(Story)

Jan 24, 2014

UPDATE: Reinstated basketball coach resigns

(Story)

Jan 23, 2014

BREAKING: District reinstates basketball coaches; staff, students respond

(Story)

Jan 23, 2014

Hoops shakeup: Franza in as coach, district investigating

(Story)

Jan 23, 2014

Bond hits voters; little effect on WHS

(Story)

Jan 17, 2014

MLK assembly addresses several types of discrimination

(Story)

Jan 16, 2014

Two boys basketball coaches placed on administrative leave

(Story)

Jan 16, 2014

Substitute teachers want more compensation, respect from district

(Story)

Dec 18, 2013

Priority on in-depth learning behind school board schedule approval

(Story)

Dec 17, 2013

Dance studio puts on holiday extravaganza

(Story)

Dec 15, 2013

Girls and boys basketball both lose to Moses Lake in tight games

(Story)

Dec 11, 2013

BREAKING: School board approves modified block schedule

(Story)

Dec 06, 2013

BREAKING: Varsity basketball coach suspended for "league violation"

(Story)

Nov 27, 2013

Knaggs hearing: undecided judge reveals faults in Wenatchee School District safety procedures

(Story)

Nov 20, 2013

WHS votes to approve modified block scheduling, now to Superintendent

(Story)

Nov 15, 2013

Shrek the Musical opens with a bang

(Story)

Nov 15, 2013

Knaggs hearing complete; decision in more than 30 days

(Story)

Nov 06, 2013

FBLA spreads Halloween cheer

(Story)

Nov 01, 2013

Make A Difference Day includes big and small Wenatchee projects

(Story)

Oct 30, 2013

Knaggs appeal date set

(Story)

Oct 10, 2013

UPDATE: Body found by Foothills Middle School students

(Story)

Oct 09, 2013

School board candidates aim to give students a voice

(Story)

Oct 09, 2013

iOS 7 still has errors, but WHS is catching on

(Story)

Oct 05, 2013

Homecoming assembly wraps up school week full of events

(Story)

Oct 04, 2013

Mariachi Huenachi performs for national audience

(Story)

Sep 28, 2013

Wenatchee football: a powerhouse at Eastmont

(Story)

Sep 19, 2013

Bob Celebrezze: the new face of administration

(Story)

Sep 12, 2013

Apple Leaf newspaper national finalist

(Story)

Sep 06, 2013

Diana Haglund chosen as Wenatchee Learns Coordinator

(Story)

Aug 29, 2013

Freshman orientation "Ignites" new comers

(Story)

Aug 25, 2013

Apple Leaf launches website, social networks

(Story)